Winner: Michelle C! Congratulations!

I have decided that wrap bracelets are my thing. I don't need diamonds and pearls – just a good wrap bracelet like those from Ida Estelle! Because the designs you will find there will put your gold tennis bracelet to shame! With a flair for mixing tones, textures and colors, Allison, the woman behind the curtain at Ida Estelle, has taken the traditional wrap bracelet and made it something much more – an Ida Estelle original!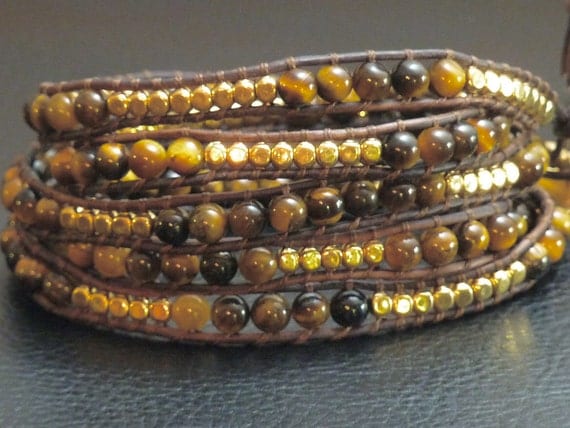 I have had the pleasure to wear an Ida Estelle original let me say, these wraps take funky sophistication to the next level. Honestly, is it possible for a bracelet to make you look and feel cooler? Yes! With an Ida Estelle original it is. I find myself building my outfits around this fantastic wrap and making sure that it is always in sight. The combination of the metallic beads with the bright blue turquoise beads is just stunning and I would have never thought to put it on dark pink leather but the final look is so amazing that it will stop you in your track. Each bead is strung with such precision that the final product is perfection – a rustic, one of a kind masterpiece that speaks volumes for Allison's talent and vision!
As you can see, the bracelet itself is flawless and the bead work is perfect. I love the alternating loops of metallic beads and turquoise beads because it gives is a feel different from anything I have seen before. And the metallic beads give it a shine – again, can I just say, so much better that diamonds and pearls;-)
I asked Allison a little more about herself as I am always curious where the inspiration behind the design comes from. Her answers amazed and impressed me. Here was what she had to say:
—————————————————————————–
Never in a million years would I have guessed this would be a chapter in my life.

After a college degree, four successful years with a company I loved, three different cities and a year of self-reflection, I have found my passion as a creator, designer and entrepreneur.
I have always been a fan of a "DIY" project.

I grew up in a house where my mom painted a room, re-painted that room, and painted it one more time.

Not because she didn't like what she had done the first or second time, but because there were just too many great and endless options out there for her to try.
My sister has a fantastic knack for spying out the one jewel in a pile of junk.

I have spent endless hours trailing behind her at flea markets while she finds the greatest vintage items most people only dream of scoring.

Her house is an always-changing collage of her most recent finds.
My dad and grandpa were masters of tinkering.

There wasn't a project out there they couldn't MacGyver their way through.

To them, there was always a solution and you didn't stop until you had it figured out.
It wasn't until I was home for the holiday's one year that I realized who the real backbone of this DIF family really was…my Grandma Micki.

I remember showing her these "killer new bracelets" I was learning how to make for gifts, and telling her that I wish I could turn that fun project into a career.

Grams didn't miss a beat.

She jumped into one story after another about her mother, my great grams, Ida Estelle.

We talked for hours about Ida, and how she was a strong, independent woman who truly was a Jack-of-all-trades.

Not only did she help her husband run a grocery store, but she was also a master seamstress, furniture builder and mother of four, all while running a boarding house during the depression.
It didn't quite occur to me at the time, but my grams has always been a constant champion for following your dreams, working hard and getting it done…whatever "it" may be.

By telling me stories of her mother, Ida Estelle, my grams was giving me the inspiration and confidence to go it alone and start a business based on the things I love to do: create, design and try new things.
And so was born, Ida Estelle Designs.

Simple. Rustic. Elegant.
THE INSPIRATION BEHIND THE DESIGNS:
Inspiration comes from where we have been, where we are now, and where we might be headed. My jewelry is inspired by my past, my present, and my future. Seattle and Austin have given my designs an eclectic vibe. New York City taught me the importance of being unique and individual. Living in Santa Monica and Denver, I gained a fascination for the simplicity of modern design. And now, living in the Colorado Rockies, I have found a true appreciation and love for naturally rustic beauty. All of these experiences have guided my direction, creating jewelry that is modern and natural, yet simple and elegant. I use these ideals when searching for stones, metals and leather to create my next designs.
Not only has my life shaped who I am as a designer, it has influenced me as a small business owner. After living in and doing business in so many different cities, I realize how important it is to support local businesses and economies. Located in Georgetown, CO, Ida Estelle Designs is committed to offering an excellent quality product, handmade in the United States. Oh, and by the way, the future is still out there. What's yours?
—————————————————————————
OK, so are you as taken with Allison and Ida Estelle as I am yet? Well, if not, it's because you haven't been over to her shop to check out how amazing her work is! And now Allison is wanting to make your New Year's a little sparklier! Because how can you ring in the New Year in style without an Ida Estelle on your wrist? Soooo, one of my lucky readers is going to win the wrap bracelet of their choice (up to a $78 value) to welcome 2012 in!
Entry is super easy thanks to Rafflecopter! Just use the form below!