Winner: Kathy Ross!  Congratulations!
Many of you have been following me on my weight loss journey.  And an essential part of that journey has been exercise – getting and staying active.  And as I have delved more and more into the world of exercise, I have found that there are many great sports and activities to help me stay fit.  And I have also learned that there are not a lot of great, fashionable outfits to get fit in!  Which is a really sad thing!  Because this mama wants to look and feel fab while I get fit!  And now, thanks to Life is Balance®, I can sport fabulously soft, super cute workout wear while I'm whipping myself into shape!
Here's a little more about Life is Balance®:
——————————————
Life is Balance® is a new line of apparel and jewelry that celebrates the various sports and activities that balance our lives. Are you a scuba diver? A gymnast? Practice yoga or martial arts? Like to run or bike? How about swimming or sailing? Surfing or kayaking? We have a design that will speak to just about anyone, from the avid golfer or tennis player to the ski or snowboard fanatic.
———————————————
Now, let me tell you what I think about Life is Balance®.  Sheryl, the creator of the line, has outdone herself by meshing ultra soft materials with fabulous designs.  With t-shirts for men, women and children and yoga wear that will have your ready to strike your next pose, she has created a line that is both fun and functional!  Add to this amazing natural stone and bead "balance" jewelry, and you have  shop that is the perfect fit for anyone trying to get or stay fit!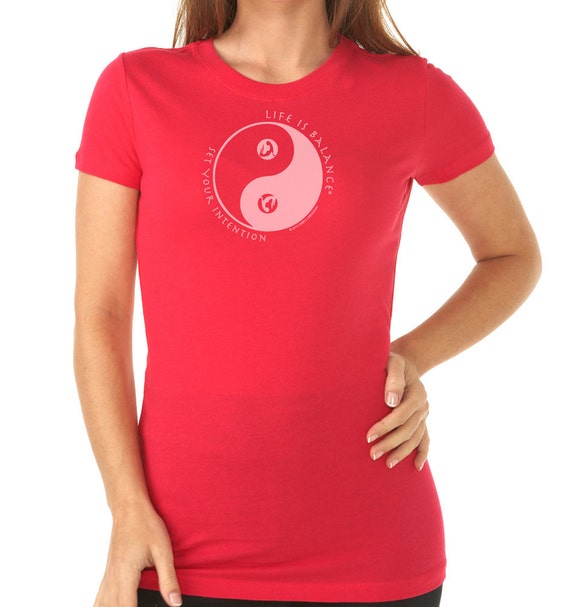 I had the great opportunity to try out one of her amazing t-shirts and it has become my favorite workout shirt! In fact, I wear it all the time, not just when I work out, because of how super soft and comfy it is.  Not to mention cute!  This is literally the SOFTEST t-shirt I own and hugs the body just enough to give you a great silhouette without being too fitted.  It moves with you and absorbs sweat well for those really tough workouts!  In my opinion, it is a piece that belongs in every fitness enthuiast's wardrobe!  I plan to purchase several more in the future!  I love that there is a shirt for virtually any sport and cute sayings that help to motivate and inspire!  Life is Balance® is a sure fire hit in my mind and I'm sure you'll love it too!
And now one of my very lucky readers is going to win their very own Life is Balance® t-shirt!  **Winner will get to choose from available designs in their size!**
And if you just can't wait to see if you win, be sure to sign up for the Life is Balance® Newsletter – you'll get a 15% discount on your first order!  **NOTE: There was a slight glitch with the technical side of things – if you signed up for the email and did not receive your discount, please re-do it now!  Your discount will be generated!**
Entry is super easy thanks to Rafflecopter.  Just use the form below!