Winner: Kat Emralde!  Congratulations!
Mother's Day is just around the corner and so I've been looking all over the place for fabulous Mother's Day gift!  And I really think I've hit the nail on the head with the stunning, unique and totally awesome Leather Cuff Bracelets from HollyHawk Designs!  What makes them so super fab?  Well, I'm glad you asked!  Because everything about them screams "I need a rockin' hot mama's wrist to adorn!"  You think I kid but I so don't!  You see, leather cuffs are all the rage this year.  Look on the runways in NYC. What do you see?  Leather cuffs.  Look on the street in California.  You'll see them there too.  But the problem with leather cuffs sometimes is that they look so blah.  So ordinary.  So not mamarific.  Until now!  Because the work of Holly at HollyHawk Designs is anything but boring!
From her leather cuffs (have I mentioned how awesome they are?) to necklaces, wallets and more, Holly turns leather into art in a way that speaks volumes about her talent!
————————————————————
"I love making stuff, but there's something about working with leather that's extra appealing. Maybe it's all the interesting things that can be done with it like dyeing, printing, stitching, embossing, molding, carving, painting, riveting… So the idea is to transform this material into unique, snappy wearable and useful items." ~ Holly
————————————————————-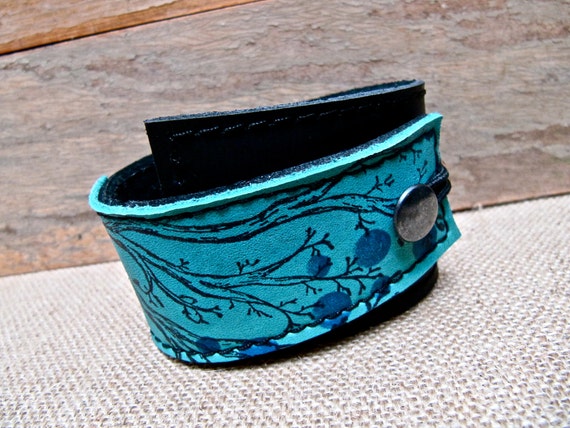 When I first saw Holly's work, I totally fell in love.  Not only was I taken with the uniqueness of it, but with the fine attention to details.  I had never seen someone with the ability to take leather cuffs and make them look so different from each other.  It seemed almost as if each piece had it's own personality and said something different about the person who would wear it.
I had the great opportunity to wear a HollyHawk leather cuff for myself and it lived up to everything I expected!  The quality of these pieces is amazing and the meshing of bright colors with rich leather makes them a work of art in themselves.  They are super comfortable, don't catch on everything you walk past as some bracelets do and make just about any outfit look rock star fabulous!  I love wearing mine with jeans, capris and even a casual dress!  The look that it gives my finished outfit is young, fun and flirty!
And for that reason, I have chosen HollyHawk Designs Leather Cuffs as one of my must have Mother's Day items!  Mom will be thrilled with the uniqueness of this gift and amazed at the way that it instantly transforms her from plain old mom in fashionable fab!
You can purchase your very own HollyHawk Designs Leather Cuff just in time for Mother's Day through Holly's etsy shop!  Whether you buy it for your mom, yourself or someone you know, it will be sure to thrill and delight this Mother's Day!
But wait!  One of my lucky readers is going to win their very own leather cuff of choice!  Entry is super easy thanks to Rafflecopter!  Just use the form below!