I'll be honest…I'm finding it hard to believe the summer is already winding down but for us, school will start back in just a few short weeks.  Knowing that our lazy summer schedule will soon be filled with back-to-school activities, sports practices and events, I've been stocking up on ingredients at Walmart to turn busy weeknights into a time when my family can come together over delicious meals that fit in with our at-times chaotic back-to-school schedule. In my home, eating together around our own kitchen table is important…especially when we start seeing the kids less due to their busy school schedules.  So, I've made it my goal to come up with quick and easy meals that satisfy all our tastebuds, like my family approved Southwest Chicken and Pasta Bake!
During the school year, I kinda become the casserole queen.  Give me some pasta, a meat, some veggies and a can of Campbell's® condensed soup and I have to say, I can turn it into something amazing! While I've tried endless varieties of my beloved bakes, right now my family just can't get enough of my super easy to make Southwest Chicken and Pasta Bake paired with a glass of fruity V8 Splash®! Filled with flavorful ingredients that are not only quick and easy but also delicious, it's a perfect weeknight meal for the coming busy school months! Before I tell you exactly how to make it for dinner tonight, let's get stocked up on some of the delicious ingredients! Simply hover over the photo below to click through to Walmart.com and purchase them!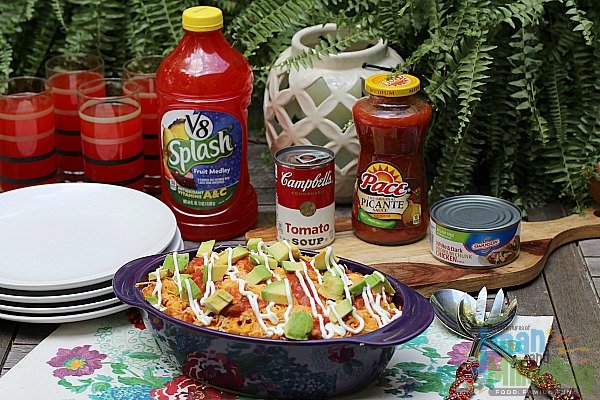 Now that your shopping is out of the way (see, I told you we were going to save time), let me share my simple shortcuts that make this Southwest Chicken and Pasta Bake so amazing!
What You Will Need:
1 Can of Campbell's® Condensed Tomato Soup
2 Cans of Swanson® Premium Chicken
1 and 1/2 Cups of Pace® (plus more to drizzle over the top)
1 Cup of Cooked Corn
1 Box of Pasta (Choose Your Favorite Noodles)
1 Cup of Shredded Mexican Cheese Blend
2 Ripe Avocados
1/4 Cup of Sour Cream (for garnish)
How to Make It:
Trust me mama….paring already cooked and ready to use, low fat Swanson® Premium Chicken with creamy Campbell's® Condensed Tomato Soup and flavorful Pace® in this recipe truly makes it a quick dinner that is sure to satisfy!  To start my meal, I preheated my oven to 350 degrees and boiled my pasta according to the directions, just until it's al dente.
Once my pasta is drained, the most involved step of creating this meal is done (yes, seriously!) and it's all about opening containers, measuring out amounts and mixing up the perfect family meal!  After adding my pasta to a large bowl, it's time to up the flavors in the simplest way!  This step involved adding in my corn, draining my cans of Swanson® Premium Chicken and pouring them in and mixing it all up with my Campbell's® Condensed Tomato Soup and Pace®.
Now, I know you're wondering why Campbell's® Condensed Tomato Soup and Pace® but for me, this flavor combination is just perfection!  By adding the mouthwatering flavors of Campbell's® Condensed Tomato Soup that my family has loved for years and that I grew up on myself, I'm able to bring some creaminess and tradition to my dish that's both quick and easy!
Pair that with the genuine southwest flavor of Pace® that's guaranteed to add a kick to meals and snacking and made with handpicked vegetables, and I've literally got the perfect combination to coat my chicken, corn and pasta in the most delicious sauce ever!  Since Southwest born and bred Pace® has been a family favorite for years and offers a variety of textures and heat levels, it's the perfect addition to my dish, proving that while it's a perfect snack for dipping, it's also a perfect addition to quick and easy meals!
Once I've stirred all my ingredients together well, cooking dinner is as simple as transferring them to a greased baking dish, sprinkling my cheese over the top and popping it in my preheated oven for about thirty minutes!
While my oven does all the hard work, I'm able to clean up what little mess I made, help kids with homework and even start my planning for the next day.  Then, once my dish is cooked to bubbly perfection, all that I have to do is pull it out of the oven, drizzle more of my Pace® over the top, add my sour cream and sprinkle cubed avocado on and instantly, I have a family favorite that makes my weeknight routine easy while still providing a meal that I feel great about serving my family and that they can't wait to eat!
With just the right amount of heat and creaminess balanced in every bite paired with the sweetness of corn, the flavor of chicken and the the cheesiness that pulls this Southwest Chicken and Pasta Bake together, this is one weeknight dish that never gets old!
And the best part is, on those nights when things are REALLY crazy, I can even make it in the crockpot (2-3 hours on low) to ensure that no matter how busy our back-to-school schedule gets, I'm already ready to serve up a delicious meal with my Southwest Chicken and Pasta Bake!
As if this amazing meal wasn't enough to make me feel like super mom, I can even take things one step further and pair it with deliciously fruity and wonderfully refreshing V8 Splash® that is packed with a good source of essential antioxidant vitamins A & C (*Lemonades and Blue Raspberry varieties do not contain Vitamin A, only Vitamin C), served up in fruity flavors that my kids love.
It's seriously the perfect pairing with my Southwest Chicken and Pasta Bake and all comes together for a meal that this mama feels great about putting in front of her family!
So, as you prep for back-to-school, make sure you're coming up with simple yet delicious ideas that boast Campbell Soup Company products and help make your mealtimes a stress-free experience where your whole family can simply come together over delicious dishes and great conversation.  Start by heading to Walmart today to stock up on a variety of Campbell Soup Company products that are perfect for quick and easy weeknight dinners.
Then get creative in the kitchen!  Try my Southwest Chicken and Pasta Bake or come up with your own simple weeknight dinner that boasts your family's favorite flavors! Need even more delicious weeknight dinner ideas? Be sure to check out the variety of perfect-for-any-night-of-the-week recipes here!
Then tell me, which Campbell Soup Company products will you use to whip up a delicious family dinner tonight?