With Halloween quickly approaching, my teenager and I have one thing on our minds….creating the best BOO Baskets around to surprise all his friends with.  Now, for years we haven't been able to do this because of middle school rules.  However, now that he's in high school, the BOO'ing is on and we've got the perfect way to BOO all his friends with a candy-filled, fabulously fun Spooky Spider BOO Bucket that's just the right size to fit in his friends lockers!
Now, I'll say this fun BOO Bucket is perfect for a variety of people but this year we're focusing on BOO'ing all the high school kids….and when I say all, I do mean ALL!  You see, my kiddo is the type that wants to include everyone so when we decided to put together our fun Spooky Spider BOO Buckets, I was fully prepared for the fact that this was going to be a BIG project!  After heading to Sam's Club to pick up bulk sizes of my BOO'ing essentials on a budget, I was ready to get to work coming up with the best way around to BOO teenagers! Now, before we get into this fun craft, be sure to hover over the image below and then click through to buy your MARS® Bat Bag and more fun Halloween Candy from Sam's Club!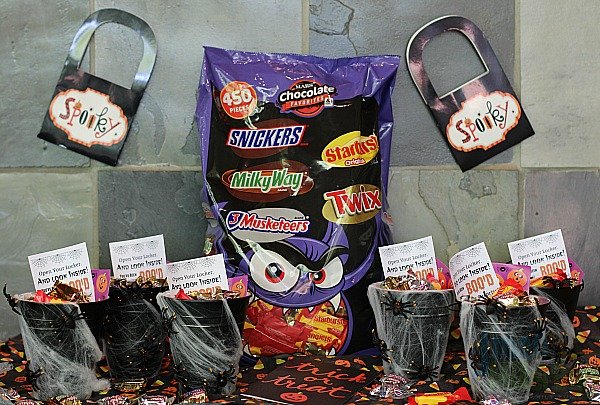 Whew! Now that you've got more than enough candy to BOO every teenager you know, let's get to work putting together these fun Spooky Spider BOO Buckets! So, why did we choose buckets?  Well, with their handle and perfect size, they were just the right container to create our BOO Buckets! However, they were silver and that just wasn't quite scary enough for my teen's taste! So, we set to work transforming them in a fun and easy way!
What You Will Need
Plenty of MARS® Candy
6-inch Silver Buckets
Black Spray Paint
Sand Paper
Fake Spider Webs
Fake Plastic Spiders
Boo Bucket for Teens Printable
Fun Halloween Stickers
Hot Glue and Hot Glue Gun
How to Make It
These Spooky Spider BOO Buckets are so simple to make, are easy to produce in bulk for all the teens in your child's school and are totally fun as well!  To start, we sprayed our 6-inch silver buckets with matte black spray paint.
Once it was completely dry, we used a small piece of sand paper to rub some of the paint off, giving our buckets a more worn in look.
Once our buckets were distressed to perfection, it was time to add the spider webs.  Now, anyone who's played with fake spider webs knows that they stretch (and stretch and stretch) so I used a small amount of glue to secure one side of the spider web to the inside of my bucket.  Then I simple pulled (and pulled and pulled) until I had achieved the look of a spider web over the section of my bucket that I wanted to cover.
With my spider webs in place, of course I needed to add some spiders to make these Spooky Spider BOO Buckets really awesome so I quickly grabbed my plastic spiders and glued them in a variety of places on my bucket.
Once all my spiders were secured and my buckets were spookily perfect, it was time to fill them up!  Now, remember that MARS® Bat Bag of candy I picked up at Sam's Club?  Well, inside of it was plenty of  Starburst®, TWIX®, SNICKERS®, MILKY WAY® and 3 MUSKETEERS® to fill all my buckets up!  Since there was a fabulous variety inside of all our favorite favorite MARS® and Wrigley products, it was easy to see that I couldn't go wrong filling our buckets with these delicious bite-sized candies!
I quickly filled each of my prepared Spooky Spider BOO Buckets with candy so that there was plenty of sweetness to balance out the spookiness!
Then I pulled out my Boo Bucket for Teens Printables, cut them to just the right size and added them to my buckets along with some fun Halloween stickers!
Just like that I had a perfect way to help my son BOO everyone in his class in a delicious way that was sure to be a hit!  All he had to do was head to school (with me of course) early in the morning and add one of our Spooky Spider BOO Buckets to each of his classmates lockers!
Then, when they arrive at school and look inside, they are treated to a spooky surprise!
This fun Spooky Spider BOO Bucket idea has got my son so excited about Halloween and he knows he's found the perfect way to inspire everyone in his grade to stop, get spooky and then BOO it Forward through out school to ensure that everyone has tons of Halloween fun!
No matter who you want to BOO this Halloween, be sure to start by picking up the perfect MARS® and Wrigley products from Sam's Club today!  Available in the candy aisle at the Club, there are 2 specially marked Halloween Designed Bags to make your BOO'ing even spookier!
Even better, these bulk sized bags are the perfect way to BOO everyone you know on a budget! So get creative! Get spooky! And find the perfect way to make sure everyone in your life gets BOO'd this Halloween!
Tell me, who will you BOO with MARS® and Wrigley products from Sam's Club this Halloween?