To say I'm enamored with our new puppy would be an understatement.  He literally brings so much joy to our lives and makes every day brighter.  In fact, I'm loving just about everything about having him in our new home….except for the accidents that sometimes happen. Now, I've been very fortunate in that he has been pretty agreeable when it comes to house breaking! In fact, in the five shorts weeks we've had him, we've worked out a pretty good potty routine.  However, in the last few days as the weather has cooled down, he's been fighting me on going outside.  I've tried sweaters. I've attempted to make our trips out fast.  But I've discovered that as fall arrives and winter approaches, my tiny little pup is going to be much less likely to happily head outdoors to use the potty.  With that in mind, I decided now was the perfect time to share my tips for house breaking your new puppy as well as a tutorial for a DIY Puppy Pool Potty that keeps your four legged friend out of the fall rain and winter snow that's sure to be on it's way!
Now, before we get to my tips and of course my super awesome DIY Puppy Pool Potty, remember that accidents do happen and when they do, you're going to need the perfect way to clean them up and protect the area to prevent future problems.  So, before we even get into my house breaking tips, be sure to hover over the image below to order your STAINMASTER®™ Carpet Pet Stain Remover from Target now!  I'll share more on how to use it later but trust me, it's a must!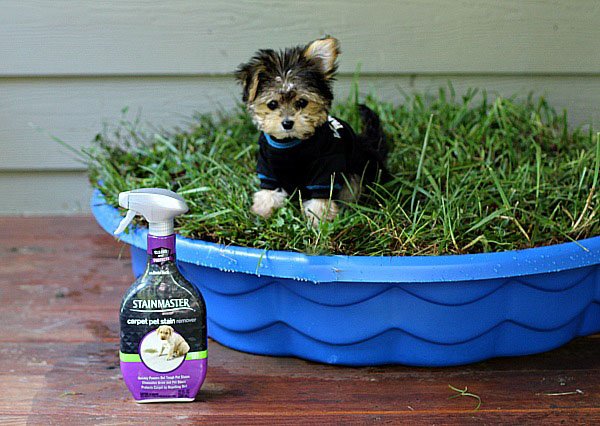 Now that your order is placed and you're on your way to having one very important house breaking essential, let's talk more about how to effectively ensure your puppy knows where to use the potty! In truth, house breaking your dog only takes a few simple steps and a little creativity! Here's how to do it!
Be Consistent
For me, it was important to remember that, like a baby, my new puppy had no way to tell me he needed to go to the potty.  We got Ollie when he was just shy of seven weeks old and his little bladder was very, very small!  In the beginning it was important for me to take him out TO THE EXACT SAME SPOT every two hours.  Yes, that meant at night too.  When I took him out, I always used the same phrase "Go Potty!" and waited with him until he was finished.
Yes, there were times when I wanted to just give up and go in but it was important for me to wait (and watch) for him to potty outside so that I could move on to step number two.
Reward Immediately
As soon as Ollie uses the potty outdoors, he's rewarded.  I don't wait until he comes back inside and instead take treats with me so that the minute he goes potty outside, he's rewarded.
This way, he associates the treat he loves with using he potty outside and is excited to go outdoors to do his business!
Don't Sweat the Little Accidents
While I wish I could say that Ollie learned to go potty outside and get his treats and never had an accident, that's just not the way things work. I'll be the first to admit that he had accidents indoors and the key to preventing future ones was to immediately treat the spot, say "No-no! Potty Outside!" firmly but without raising my voice and then increase the frequency with which I take him out.  I quickly learned that while accidents do happen and pets and carpet aren't always the perfect match, there is a perfect way to clean up Pet Stains and protect my carpet from future stains using STAINMASTER Carpet Pet Stain Remover from Target!
STAINMASTER Carpet Pet Stain Remover is the perfect way for me to lift away tough pet stains and eliminate odors when accidents happen in the house.  It's important to note that some other stain removers can leave a sticky residue that can attract dirt over time or leave odors that can cause your puppy to go back to the same spot to potty.  However, STAINMASTER has breakthrough technology that is designed to quickly clean on contact and repel dirt to protect against re-soiling while at the same time using powerful ODOR REMOVE™ technology which starts to eliminate odors within minutes! When used immediately on stains like urine, vomit and feces and even everyday stains like coffee, grape juice, jelly, chocolate syrup, ketchup, dirty motor oil and soil, STAINMASTER Carpet Pet Stain Remover is the perfect way to protect my carpet so I can keep it looking newer longer!
(NOTE: STAINMASTER Carpet Care products are designed for use on stain resistant, nylon, polyester and polypropylene color-fast carpets and rugs. They are  not recommended for on upholstery, handmade, viscose, natural fibers (including wool and cotton), oriental, antique or bath rugs.)
For me, the ability to clean up tough pet stains while protecting my carpet for the future makes STAINMASTER Carpet Pet Stain Remover this dog mamas best friend! Along with making sure I always have it on hand, I've come up with one final trick to help avoid repeat accident on my carpet an help house break my puppy!
Try a DIY Puppy Pool Potty
While my tips above have been working great, as the Fall weather moves in along with showers and cooler temperatures, Ollie has been less than cooperative about going out.  He HATES getting wet or getting his precious paws muddy and around our parts, Fall is all about cooler temperatures and rain that will eventually lead to snow.  On those days where it's cool and the grass is damp, this is the look I get when trying to convince him to potty outside.
After struggling for several days with his desire to just stay on the covered porch, I decided to make a DIY Puppy Pool Potty that allows him to potty outside without ever leaving the cover of our porch!  Here's how I did it!
What You Will Need
Hard Plastic Kid's Pool (Choose the Right Size for Your Dog's Breed)
Enough Dirt to Fill the Pool
Grass Seeds or Sod
How to Make It
After deciding I wanted to make a DIY Puppy Pool Potty so that Ollie can do his business protected from the Fall weather, I enlisted the help of the hubs who quickly drilled holes into the bottom of our kiddie pool for irrigation and helped me find the perfect place to put it on our porch (Tip: You can move the DIY Puppy Pool Potty into your garage for the winter months).
After letting Ollie check it out and get familiar with the empty pool, we filled it with our dirt.
Next, we placed pieces of grass on top of our dirt, pushing them together and filling the area of the pool completely. (Note: If you're not in a hurry, you can use grass seed to grow your own grass.  For those who want their DIY Fall Pool Potty ready NOW, sod is a great option for immediate results!).
We watered our DIY Puppy Pool Potty generously to help the grass root itself into the dirt and then raked it to get rid of any debris and our creation was complete!
All that was left to do was introduce Ollie to his new place to potty that's protected from the changing Fall weather!  I'll admit that at first he was a little skeptical but he quickly discovered that the convenience of his DIY Puppy Pool Potty definitely beat going out in the rain and wet, cool mornings!
After just a few tries (with a treat given immediately for success) he was a pro at going potty in this new area and I was thrilled that I had found a way to ensure I don't have to stand out in the rain and wet waiting for my stubborn puppy to decide to do his business!
Along with my STAINMASTER Carpet Pet Stain Remover from Target, I'm using my DIY Puppy Potty Pool to ensure that my new puppy is bringing nothing into my house but joy!  With the perfect place for him to potty protected from the Fall weather and the perfect way to clean up accidents and protect my carpet from future accidents when they do happen, I'm being able to simply enjoy my pup each and every day!
Now, it's your turn! Whether you've got a new puppy or a seasoned dog, head to Target today to pick up your STAINMASTER Carpet Pet Stain Remover that allows you to clean tough pet stains while protecting your carpet! Available in the cleaning aisle, it's my first line of defense against pet accidents that happen indoors!
Then make your own DIY Puppy Pool Potty to help your dog go where he or she is supposed to…not on your carpet!
Now tell me, how will the convenience of STAINMASTER Carpet Pet Stain Remover help you stress less when your pup makes a mess?