I've never been a really deep sleeper.  For as long as I can remember, little things have interrupted my sleep.  Now, when I was younger I could just roll over and go back to sleep without giving it a second though but as I've gotten older minor aches and pains have become the major factor that's keeping me from that great night of sleep that I need.  You see, getting older isn't easy and while I still live the same active lifestyle I always have, I find that more often now a long hike will leave me with a sore back or a trip to the gym will cause muscles to ache just enough to keep me awake.  While I tried just dealing with the minor-pain induced sleep interruptions in my nights, I've now gotten smart and come up with soothing Chamomile-Rose Bath Salts paired with a few easy tips for a better night's sleep and I have to say, it's made a huge difference!
So, how's a busy, always on the go mom to get a restful night's sleep?  Admittedly, my days are busy…especially during the limited light hours of daylight savings time.  For me, there's tons to do and not a lot of time to do it.  In addition to all the mom, wife and work duties I juggle, working out and staying healthy are also a priority for me.  Balancing all these hats, so to speak, can leave me tired but working out or carrying around my kiddo can also leave me sore.  In order to take care of the pain and have a great night's sleep so that I can make the most of my limited daytime hours, it just takes a little planning, the right medication and a few easy tips to help me wind down in the evenings to ensure that I'm sleeping peacefully instead of spending my nights tossing and turning and in pain.  Now, before I share my secrets with you, it's important that you have my most essential item for a good night's sleep free of aches and pains on hand and that is TYLENOL® PM! So go ahead and hover over the image below to click through and buy your TYLENOL® PM from Walgreens now!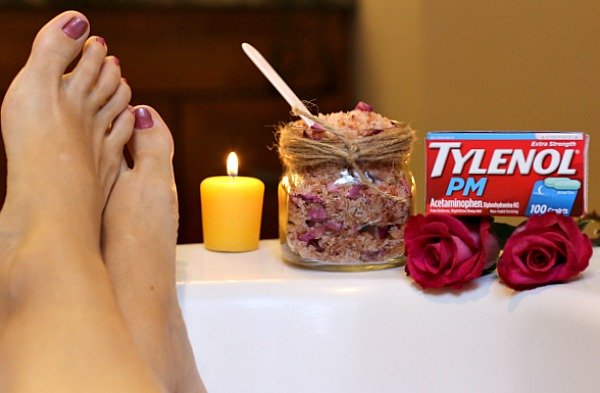 Now that we've got that out of the way, let's look at what my tried and true, better night's sleep routine looks like.
Unplug At Least an Hour Before Bed
I'll admit that I'm always on the go from the time my feet hit the floor till the time I go to bed.  Trying to juggle all the responsibilities in life with the things I want to do leaves very little down time in my days.  It's not uncommon at all for me to be folding clothes at midnight or answering emails at two in the morning.  This schedule can wreak havoc on my body though.  I notice that the harder I go, the more often I struggle with a sore back and tender muscles.  While I attribute a lot of it to my exercise routine, in reality I know it's a combination of sitting at my desk for long hours, lugging around all the kids' stuff and working out.  While I can't take any of these items out of my day, I can take an hour for myself before bed.  This might mean sitting down with a book.  It might mean listening to music.  It might mean just closing my eyes and savoring the fact that my house is silent (it's rare y'all).  Whatever I choose to do with my hour, it's important for me to put away work, worry, kids' activities and more and simply unplug! Yes, that means no phone, no tablet and no TV….it means a time for myself when I can prepare my body for a good night's sleep!  During this time, I do love to take a warm bath (because, really, what're more relaxing than a warm bath?) which brings me to my second tip…
Take a Soothing Bath with Chamomile-Rose Bath Salts
Taking a bath in the evening is the perfect way to unwind.  Taking a bath that wraps me in the comforting scents of chamomile and rose is pure bliss! So, a while back, I learned how to make my own bath salts using essential oils and Pink Himalayan salt.  These easy to make bath salts are pure bliss when mixed with warm water and not only relax my body but also relax my mind!  Here's how I make them:
What You Will Need
2 Cups of Pink Himalayan Salt
30 Drops of Chamomile Essential Oil
15 Drops of Rose Essential Oil
1 Fresh Rose (Optional)
How to Make It
Now, I know you can buy pre-made bath salts but they are so easy to make and I love the ability to add as little or as much scent to my bath salts as I want.  To start, I poured my Pink Himalayan Salt into a large bowl.  Then I pulled out my chamomile and rose essentials oils and added them to the salt, about five drops at a time, stirring in between.
As I stirred my Pink Himalayan Salt together with my essential oils, I achieved a texture that was almost like damp sand and that's exactly what I was looking for.
By this point, my Chamomile-Rose Bath Salts smelled amazing but you know me, I wanted them to look pretty as well!  To ensure that they did, I quickly pulled the petals off of a pink rose and dried them by placing them in the microwave for about one minute.
As soon as they were dried, I crumbled them into my Chamomile-Rose Bath Salts and mixed them in, giving myself a luxurious extra touch that made my bath salts perfect.
After mixing my Chamomile-Rose Bath Salts all together, I transferred them to an air tight container and placed them on the rim of my bathtub so that they are easy to enjoy each and every night.
Now, when I'm ready to wind down, I can simply scoop out some of my Chamomile-Rose Bath Salts and add them to my bath for a little extra relaxation and pampering.
While my Chamomile-Rose Bath Salts do help me relax before bed, they don't get rid of all the minor aches and pains that come with my busy lifestyle so the final step in my bed time routine is to add TYLENOL® PM to the end of my busy days.
End The Day with TYLENOL®
 PM
Once I've relaxed my mind and done my best to relax my body, it's time to take care of minor aches and pains in the most effective way that helps me to get a great night's sleep so that my limited daytime hours are not wasted being tired!  Now, anyone who has ever lost sleep because of minor aches and pains knows that it can really throw off your day.  You're sluggish.  You don't feel great.  You're just not productive.  While I know that the minor aches and pains will always be there at night, I also know that the best way to combat them and reclaim a good night's sleep is by adding TYLENOL® PM to my night time routine!
For me, taking two TYLENOL® PM caplets helps to ensure that I'm not kept awake by minor aches and pains (use only as directed!).  Like many fellow busy adults, for me sleeplessness is the primary issue I face at night but when pain is added to my sleepless nights, it seems like the morning will never come.  That's where the pain fighting power and ability to help me fall asleep of TYLENOL® PM comes in.  With just two caplets I'm able to relieve minor aches and pains while falling asleep easier!
That means that I get the great night's rest that I need and am able to wake up feeling rested and ready to tackle my day instead of waking up feeling groggy and like I've got an uphill battle in front of me.  Now, with daylight savings time upon us, it's become even more important for me to achieve that rested feeling so that I can make the most of my limited daytime hours because when there are less hours of light, it means I have to push even harder to meet my responsibilities and achieve my goals.
As I move through the fall months and into the shorter winter days, I know I'll be doing more during my busy days and I know that I'll continue to have minor aches and pains that equal trouble sleeping at night.  But now I know that I've got the perfect way to ensure that each and every night is a great night that prepares me for a better tomorrow thanks to my TYLENOL® PM, my Chamomile-Rose Bath Salts and my tips for a better night's sleep.
Are you ready to get a better night's sleep free from minor aches and pains?  Start today by visiting your local Wagreens to pick up TYLENOL® PM.  Now is the perfect time since TYLENOL® is collaborating with Walgreens to help consumers that are experiencing sleepless nights!  To get you started, from 11/5 through 11/11 you can get your TYLENOL® PM 100 count for $11.99 by using your Walgreens card to get $1.50 off your purchase!  It's the perfect way to ensure that you've got the best way possible to turn sleepless, painful nights into ones that are filled with blissful rest!
To find out more about TYLENOL® PM and how it can help you get the pain-free, blissful sleep you've been missing, be sure to click here and follow them on Facebook and YouTube.
Then tell me, how will a great night's sleep with help from TYLENOL® PM ensure you can make more of your days?
TYLENOL® PM contains a pain reliever and nighttime sleep aid. ©Johnson & Johnson Consumer Inc. 2017 The third party trademarks used herein are trademarks of their respective owners.