While my baby diapering days are admittedly over, there is nothing I love more than sweet, tiny little babies and helping their mamas prepare to welcome their new additions into the world.  Many of my friends are currently pregnant or have recently had babies and for me, watching them bring home their little ones has triggered so many amazing memories of when my own boys were newly born.  In fact, just recently my next door neighbor had a little boy and as we talked leading up to her delivery, I found myself thinking back over the best advice I had to offer from when my boys were little.  Inspired by our conversation, I decided to help her stock up on the diapers I used for my own boys while also creating the perfect baby shower gift of a simple yet adorable Truck Diaper Cake! Whether you're soon to be a mom yourself or know someone who is, read on to find out some great money saving tips for new moms when it comes to buying diapers and be sure to check out my Truck Diaper Cake Tutorial!
Now, before I show you how to make this diaper cake that's a totally awesome baby shower present, it's important to do two things….stock up on the necessary supplies and discuss why Huggies® Diapers and Wipes from Sam's Club are a must for new mamas! To get started (and so that you're ready to whip up your own Truck Diaper Cake) be sure to hover over the image below and click through to purchase your Huggies Little Snugglers and Wipes from Sam's Club!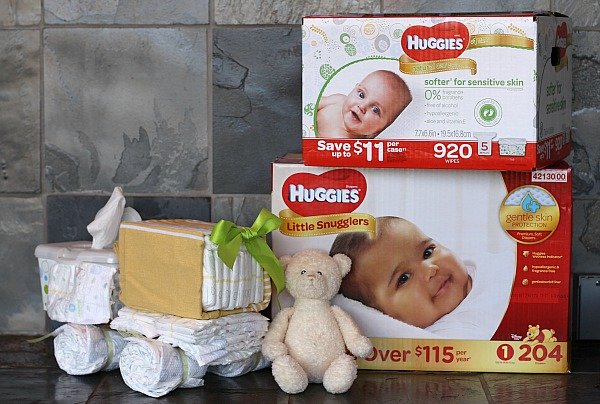 So why stock up on Huggies? Well, for me deciding to purchase these diapers and wipes for my baby-having friends is easy.  Not only are Huggies Little Snugglers the diaper I used on my own boys but by purchasing them at Sam's Club, I can save and teach my mama friends how to save as well!  As a seasoned mom, I know that babies need LOTS of diaper! Don't believe me? Just check out this chart to see how many diapers are needed for little ones and how much savings can be achieved by buying Huggies in bulk at Sam's Club!
Now that you can actually see the savings I'm guessing you understand why it's important to me that I share with all my friend that they can stock up for less on Huggies at Sam's Club…especially right now!  You see, Sam's Club has a limited time Instant Savings offer on Huggies Diapers, Pants and Wipes for the holiday season, making their already awesome prices even more amazing!  From now until December 25th, you can enjoy $4 in Instant Savings when you buy any one Huggies product at Sam's Club!  Pretty awesome right?  Even better you can get an additional $4 savings through Ibotta when you buy Huggies at Sam's Club! That means that Sam's Club's already low prices are even lower!  As an added bonus, Sam's Club now has self check out (it's the ONLY thing I use) that makes it easy to run in, get those diapers and wipes and be back on my way in no time at all! Obviously, buying Huggies diapers and wipes at Sam's Club is the smart choice for new AND seasoned moms so that they can save time and money but just in case you know someone who's gonna be a mama soon, I've got to share this fun Truck Diaper Cake Tutorial with you so that you can show up with a much needed present that's crazy cute!
What You Will Need
Huggies Little Snugglers Diapers
Huggies Natural Care Wipes (plus included Container)
1 Thin Baby Blanket
2 Pieces of Cardboard
Ribbon in Your Choice of Color
Double Sided Tape
A Small Stuffed Animal (Optional)
How to Make It
This Truck Diaper Cake is actually super simple to make and it's a fun baby shower gift that is always a hit! I love that my Truck Diaper Cake is made almost entirely out of diapers and can be given along with the bulk size boxes of Huggies Little Snugglers and Natural Care Wipes from Sam's Club!  To start this fun Truck Diaper Cake, I needed wheels.  After pulling out four of my Huggies diapers, I laid them on the table, spreading them into a line but overlapping them.
Starting at the bottom, I simply rolled the diapers up into a circle and used a piece of ribbon to tie around them, creating the look of a wheel.
Once I had repeated this process four times to create my wheels, I cut one of my pieces of cardboard into a long rectangle that could sit on top of the wheels and serve as the base for the body of my truck.  One I had the size I wanted cut out, I used my double sided tape to attach my wheels and make my base stable to finish my Truck Diaper Cake.
To create the body and bed of my truck, I wanted to use diapers and wipes, making this gift one that has both new-baby essentials together.  I quickly filled my wipes container that came with my Huggies Natural Care Wipes from Sam's Club and then placed it on the back half of my piece of cardboard, using a diaper on each side to give it a continuous look.  Then I added two stacks of four diapers in front of my wipes container to create a platform for the front of my diaper truck to sit on.
At this point, all that I needed to finish my Truck Diaper Cake was the cab of the truck.  After thinking through the look that I wanted to achieve, I cut a strip from my second piece of cardboard and folded it into a cube, leaving the inside hollow.
I then folded my baby blanket in half and wrapped it around the cardboard cube, tucking in the edges and using my double sided tape to secure any loose pieces.  Once I had my piece of cardboard covered in my baby blanket, I filled the inside with Huggies Little Snugglers diapers.
Next, I added two pieces of double sided tape to the bottom of my box and placed it on top of the diapers that I had used to create a platform for it. After adding a simple bow made from ribbon, my Truck Diaper Cake was complete!
Just for fun, I added a stuffed animal (after all, somebody needed to drive the truck!) and paired my Truck Diaper Cake with my boxes of Huggies Little Snugglers and Natural Care Wipes from Sam's Club and I instantly had a baby shower gift that any mama would be excited to receive!
After loading up my boxes of Huggies Diapers and Wipes and my Truck Diaper Cake, I felt confident that I had a great baby shower gift that is truly a full of essentials for any new mom! Just as I know that Huggies Little Snuggers is the fastest growing brand in hospitals and mom preferred over Pampers, I also know that these diapers are the perfect way to help keep newborn's perfect skin clean and healthy!  When paired with the #1 branded Huggies Natural Care Baby Wipes, I can feel good about giving a baby shower gift that will continue giving because in addition to being much needed items for new moms, it's also a perfect way to share with those same moms the knowledge I have that shopping at Sam's Club is the perfect way to save money!
Are you a soon to be mom or do you know someone who is? If so, head to Sam's Club today to stock up on the brand of diapers and wipes that moms trust! Available in the baby aisle, Huggies Little Snugglers and Natural Care Wipes are a perfect gift for new and seasoned moms and a great way to save on baby essentials as well!
So don't wait! Whether you create my Truck Diaper Cake to take to a friends baby shower or simply share with a fellow mom about the amazing Instant Savings available on Huggies products at Sam's Club now, do your fellow moms a favor and let them know that the only brand for their baby is Huggies and the only place to buy it is Sam's Club!
Now tell me, who do you know that would love to receive this adorable Truck Diaper Cake made with Huggies Little Snugglers from Sam's Club?