The Big Game is quickly approaching and in my football loving home, that means it's time to prepare for some major entertaining.  While I've never found a wrong reason to have friends over for football, food and fun, the Big Game is a time when I take things to a whole new level.  Knowing that the hubs will invite his work buddies, my teen will come rolling in with all his friends from school and our neighbors will be eager to see what type of spread I was able to come up with this year, I've been in game day prep mode for quite a while now already. While (sadly) our favorite team is already out of the running, when you live with die hard football fans like I do it really doesn't matter who is playing…in fact, the game in itself is reason enough to throw a massive celebration.  With that in mind I've been doing a little prep work the past few weeks to ensure that my Big Game celebration goes off without a hitch. I've got a perfectly planned menu. The house is cleaned and organized to allow maximum viewing of all the TVs. My front porch is waiting and ready with mobile heaters in place in case we decide to move the party outside. However, as I surveyed my game day plans I realized that one area of my home that needed a little help was the guest bathroom.  Located right in the line of sight for ease of use during our Big Game celebrations, I wanted to find a way to make it look inviting.  After all, guests may wonder in my kitchen. They may spend time sitting on my couches. But one place I KNOW they will all be at some point during the all-afternoon-and-evening celebration is the bathroom.  That's why I decided to give my guest bathroom a game day makeover complete with a Football basket filled with everything a good hostess offers to keep the most used room of her game day celebrations looking (and smelling) great! Before your guests arrive for your Big Game celebration, don't forget the most important room in your house! Instead, check out my easy Football Basket Tutorial along with my tips to prep your bathroom for game day guests!
While I'm sure most of you have all the basics covered when it comes to finger foods and Big Game activities, it's time to get down to the nitty gritty and talk about your guest bathroom.  You know it's going to be used….a lot.  You know that (especially with guys) poo happens. So instead of pretending it doesn't (which is par for the course in my Southern household!), let's be a little proactive and find a fun way to address some stinky situations, m'kay? Now, before we get started, you're gonna need to do a little online shopping and stock up on Poo~Pourri Before-You-Go® Toilet Spray. We'll talk more about the reason for this later on but for now, just trust me and hover over the image below to click through and purchase your Poo~Pourri!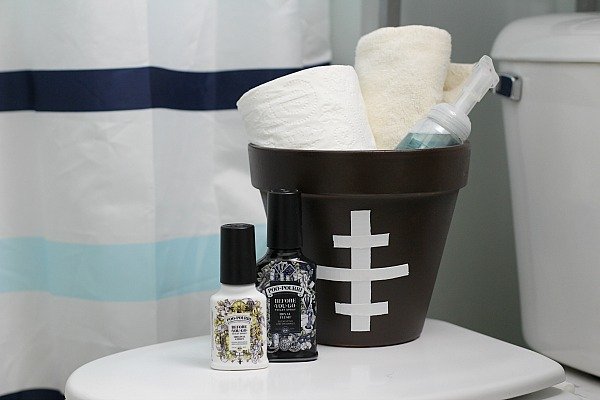 Now that you've got that VERY important step out of the way, let me show you how to discreetly let all your Big Game guests know that for your game day celebrations, a fresh bathroom is the only thing that will do! For me, the best way to do this is to make keeping the bathroom from smelling like, well, a bathroom cute and funny and the perfect way to do that is with Poo~Pourri and an easy Football Basket!
What You Will Need
1 Terra Cotta Flower Pot (Medium Sized)
Brown Spray Paint
White Heavy Duty Tape
A Bath Towel
Toilet Paper
Hand Soap
Poo~Pourri
How (and Why) to Make It
We're already established that the bathroom (or the "other" bowl as we'll refer to it from this point forward) is a destination for most of your Big Game celebration guests! Trust me, they will find their way in there and unless you want half of them – this would be the more refined female half….just kidding….kinda – running to your other bathrooms which may or may not be clean and ready for them (don't judge, I spend most of my time cooking not cleaning), you're going to need to do a little prep to ensure that the guest bathroom is inviting to EVERYONE who walks inside.  This means you need to have it well stocked and smelling good. While I KNOW that sounds daunting with a house full of guests, it's actually quite simple! Here'e exactly how to do it!
Step 1: Clean Your Bathroom WELL
Before your guests arrive, prep that bathroom and don't be afraid to lay some bleach to it! Rings in the "other bowl" make more than your mother-in-law talk, OK? Make sure you've got a fresh roll of toilet paper….you can even fold the ends into pretty little shapes like they do in the hotels. Make sure the sink is clean. Make sure you've got hand towels that aren't stained! Seriously, if you want all your guests to be comfortable using your guest bath, make sure it doesn't look like you're the mom of a bunch of boys with no aim!  Then don't let your family use that bathroom….you understand what I'm saying, right?
Step 2: Make Your Football Basket
Once your bathroom is clean, you'll need a fun and creative way to store extra supplies and everything your guests need to feel comfortable when they have to go.  For me, turning a terra cotta flower pot into a football basket was quick and easy and since I have about a million of them around my house from all my failed gardening projects, it just felt like to smart way to go! To start, I laid out a painting sheet to protect my concrete and sat my terra cotta flower pot on top of it.
Next, I sprayed the entire pot with brown spray paint and repeated the process with several coats, letting each one dry completely in between, until my pot was completely brown and there was no orange showing through.
Once my brown paint was dry, turning my pot into a football basket was as easy as pulling out some white heavy duty tape to create my laces.
I would like to tell you that I had some magic measurement to make this look just right but honestly, I just used a piece of tape that was slightly shorter than the height of my pot and placed it on vertically.
Next, I cut one slightly shorter piece of tape and two even shorter pieces of tape and stuck them directly to my flower pot, creating the look of football laces.
Once my football basket was ready, all I needed to do was fill it with guest bathroom essentials that would ensure all my guests had a fragrant (in the right way) game day experience.
Step 3: Fill Your Football Basket with Game Day Bathroom Essentials
I started by adding a rolled up hand towel just in case the ones that I had hanging got wet or dirty.
Next, I added three extra rolls of toilet paper (you can fit two down into the bottom and one coming out the top) so that no matter how may people used my guest bathroom, none of them would run out of this essential.
After adding in some hand soap because, well, I have a tendency to be a germaphobe, I was ready to add my most important tongue-in-cheek item to my football basket! Now remember when I told you to order your Poo~Pourri Before-You-Go® Toilet Spray earlier? I hope you did because this is where it comes in handy! While my celebration may be about one Bowl, it's important to me that I don't forget about what's going to be happening in the other bowl.  To ensure that what happens in the bathroom stays in the bathroom (please oh please) I added my Poo~Pourri Royal Flush® to my basket.
While half of my reason for adding it to my football basket for my guest bathroom was that it's funny, the real reason behind it's inclusion is that it works! With the scent of Eucalyptus + Spearmint and the ability to purchase it in 2, 4 or 8 full ounce sizes, this all natural Before-You-Go® Toilet Spray has no synthetic fragrance, alcohol, aerosol, parabens, phthanlates or formaldehyde but is full of ALL stink-fightin' good stuff! Because of that, it was the perfect, not-so-subtle reminder that I expected my guest bath to be a place that I wasn't afraid to walk into! For good measure I also added a bottle of Poo~Pourri Original Citrus with the scents of Lemon + Bergamot + Lemongrass for the ladies and my guest bathroom football basket was complete!
Step 4: Enjoy Feeling Confident that All Your Guests Will Be Comfortable When They Go
After placing my football basket filled with game day bathroom essentials and my Poo~Pourri in my guest bathroom, I knew that my planning for my Big Game celebration was complete! When guests enter my bathroom during my party, they will have everything they need to feel fresh but more importantly, they will have the essential ingredient to leave the bathroom smelling just as great as it did when they entered! While it's totally not above me to yell directions as they enter and tell them all (especially the guys) to remember to simply spritz the Poo~Pourri into the toilet bowl before-they-go to create a protective film of natural essentials oil on the surface of the water that traps odor under the surface, I don't think I'll have to.
Instead, I'll just leave the Poo~Pourri front and center and let them figure out how easy it is to do the rest! That way no matter how many guests go in and out of my bathroom during the big game, I won't have to worry about anything but the Bowl that's on the television!
Do you want to make sure your bathroom is as ready for your Big Game celebration as you are? Don't leave it to chance and end up with a room that nobody wants to go into! Instead, prep your bathroom so that even the worst smells stay exactly where they are supposed to…in the toilet! Start by ordering your Poo~Pourri online today!
Over 40 Million bottles have been sold in a variety of scents and over 15,000+ 5 star reviews have been submitted, ensuring that while your team may not be the winner of the big game, with Poo~Pourri the losing team will be the only thing that stinks! Ready to purchase yours today? Be sure to take advantage of FREE Shipping on orders over $19.95 at PooPourri.com! Place your order now to ensure you'll be ready to keep the "Other" bowl smelling great at your Big Game Celebration!
Now tell me, which of the Poo~Pourri scents will you be cheering for on game day?