It's no secret that I'm crazy over my teacup pup.  Ever since adding him to our family this past summer, he has become the glue that brings us all together and keeps us there.  Where evenings used to be spent doing our own things, we now all sit down in the living room to throw Ollie his rope, watch as he races in circles around the coffee table and oblige when he rolls over and offers up his belly for a good scratching.  Bringing him into our home has been one of the best things ever but in truth, it has also caused me to learn a lot about teacup pups. In case you couldn't tell, Ollie is a whopping four pounds of cuteness that thinks his whole purpose in life is to be loved. While I adore having him ride in his little car seat while I go pick up the kids and love him sitting on my lap while I work, life with a teacup breed dog requires more than simply petting them constantly. You see, while most people think that teacup dogs are the easiest to care for, that's not always the case. Over the past eight months, I've learned a few tips that keep him going strong all day and leave him happily tired at night. I hope you'll check out my tips to keep your teacup pup feeling their best!
For me, keeping my little Ollie feeling great both day and night requires things like a pretty reliable schedule, tons of play and of course a dependable meal routine that's perfect for fueling his active lifestyle. We'll discuss all these areas in more detail as together they help keep teacup breed dogs feeling their best but first, you're going to need to stock up on Purina® Bella Small Dog Food for your small dog! Go ahead and hover over the image below to click through and make your purchase then read on to see how this premium Purina brand dog food from PetSmart plays an important part in keeping small dogs feeling great!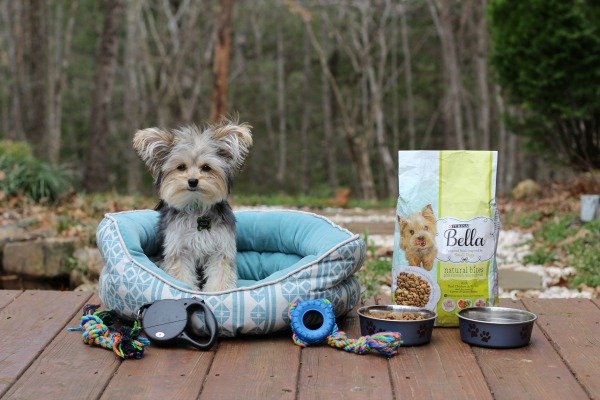 Now that your shopping is out of the way, let's look at what a day in the life of Ollie looks like as I share with you my easy tutorial on how to keep your teacup pup feeling their best! First, let's go ahead and address the fact that teacup pups like my little Morkie (Matlese and Yorkshire Terrier Blend) are a little bit of work….high maintenance some might say! They need attention. They can be a little yippy. They need to be groomed regularly. They are NOT the right dog for someone who is not home much and doesn't have attention to spare.  However, if you're the type of person who wants a totally adoring animal who wants to constantly give you love and be right by your side, a Morkie is a perfect fit!  There are a few things that you have to do each and every day though to keep this small dog breed feeling their best! Here's a checklist for you of what a teacup pups needs to feel fabulous!
Feed Them A Small Breed Dog Food
Just as us humans can't live without food, neither can small dogs. Please (oh please) don't be fooled by Ollie's small size….he LOVES to eat.  In fact, I have to control his food portions as well as the food he is given. However, small dogs like my Ollie also tend to have somewhat sensitive stomachs so for me, going to the store and picking up whatever's on sale isn't ideal. While I've been a Purina dog food fan since bringing Ollie home, I didn't really know that there were different types of Purina dog food for different breeds. I did know that Purina provides complete and balanced diets from a leader in wholesale pet nutrition with options that include protein, are grain-free and natural. I also knew that PetSmart has the widest variety of premium quality Purina products at amazing prices.  These two facts paired with the ability to bring Ollie in store with me made PetSmart a great place to start when searching for the right food for my four-legged friend. I will admit that I was somewhat overwhelmed by the endless selection of dog foods and while I had gone in looking for one type of food,  a store associate spotted my tiny little pup perched on my shoulder and redirected me to the Small Dog Market (who would have thought right?).
Now, in addition to not knowing that PetSmart has an areas of food just for small dogs like my teacup pup, I also had no idea that Purina® Bella Small Dog Food was perfectly made for my small dog by the brand that I already trust! After seeing a cute little face that looked VERY similar to my Ollie on the front of the Bella packaging and hearing the sales associate explain why my dog food choice matters, especially with a teacup pup, I loaded up my cart with both Purina® Bella Small Dog Food in Chicken & Turkey & Accents of Carrots and Greenbeans (dry food) as well as the Variety Pack of Purina® Bella Small Dog Food in Chicken and Beef (wet food) and took it home to start offering my Ollie premium nutrition that is made specifically for his small size.
He immediately adored this new-to-him brand of dog food and I loved knowing that I had found a new food from a brand I already trust that gives my teacup pup the nutrition he needs to live his best days!
Knowing like I do that what I feed him impacts every other aspect of his day, I felt great with my decision to feed him Purina® Bella Small Dog Food that's created specifically for small breed dogs and their specific needs.
I think Ollie will agree that starting (and finishing) the day with the right dog food for his size is the foundation that allows us to take part in all of the other daily activities that leave Ollie feeling his best! With what I feed him being a vital part of his day, the following areas are also important in keeping him feeling great.
Make Time for Exercise Daily
Many people often think that small dogs are just lap dogs but they need exercise too! While I'm not likely to take Ollie on a 10 mile hike (unless he's in his carrier), he does love to run and I try to make sure that he gets plenty of exercise each and every day. We plan a time in the morning and the afternoon to go to the open field beside our house and just let him run.
I jokingly call him Super-Dog because he loves to take flight and his little legs will often get to going so fast that he'll turn into a bowling ball and just roll! The fresh air and the exercise gets his heart beating and helps him to feel great for the rest of the day.
Play with Them Often
While I walk and run my teacup pup every day, exercise is not a substitute for play.  Nothing makes Ollie more excited than when I pull out his rope and just spend a few minutes playing with him.  Whether it's tug-of-war or fetch, small dogs tend to be extremely playful and that time of play is socialization for them.
Remember that small dogs do tire more quickly but they will generally lay down or lose interest when they have had enough play.
Groom Regularly
Not all small dogs require grooming but truthfully, most do.  In addition to taking Ollie to the doggy beauty salon every other month, it's important for me to brush him daily to avoid him matting up. Not only does this keep him feeling good (dogs tend to bite at matted areas) but it keeps him looking good as well.
While I will fully admit that this is NOT his favorite part of our day, it's essential. When I don't brush him daily, he ends up having to get shaved to remove matted fur and let's just say that his resemblance to a rat is quite shocking when he doesn't have his fur! That look wouldn't make any dog feel like strutting their stuff!
Give them Tons of Love
It sounds simple but teacup pups are a very needy breed. They crave love and attention. They want to constantly be close to you. For me, it's important to take time out of my day and give Ollie undivided attention.  Whether I'm scratching his ears or simple letting one of the boys love on him, it's what he needs. In fact, if I rub him at just the right place on his ears, I'm rewarded with a smile (seriously!).
While he's totally content just being close, remembering to take time to give him some TLC makes a huge difference in his interactions with the entire family.
Make Time for Rest
While keeping a teacup breed pup active and engaged is important, it's also important to remember that small dogs do need more rest than their larger friends. Putting Ollie's bed or a blanket where he can lay near me and feel secure while resting is a great way to encourage him to lay down for a little while when he's tired.
Generally after about an hour of rest time, he's ready to start cycling through all his activities again!
So, there you have it….everything you need to know to keep your teacup breed pup feeling great and going strong from sunrise to sunset! I have to say that having this little pup in our family has brought us all so much joy and I, in turn, want to do everything I can to ensure that he stays happy for many years to come!
While I admittedly know more about teacup breeds than any other breed of dogs, one thing I recommend to all pet owners is to find the right dog food to fuel your four-legged friend. Starting and finishing their day with a high quality dog food ensures that they have the energy to do more and live their best lives.  No matter what breed of dog you have in your home. I encourage you to head to PetSmart starting March 4th to take advantage of the awesome deals on Purina Dog and Cat food for every size and breed!
Now that you've got all the info on amazing savings for your four-legged friend's food, be sure to click here to see more stories, tips and tutorials with information about how pet owners everywhere are going the extra mile and showing their pets tons of love! From DIY dog toys to simple tips, don't miss any of the fun and informative advice of pet moms and dads from around the United States!
Then tell me, what Purina products do you feed your pet to keep them looking and feeling their best?