I've made no secret of the fact that I'm on a mission to live a healthier lifestyle. With all the changes that have gone on in our family over the last year, it's become important to me to pay better attention to the food that I'm putting in my body and serving to my family. I'm becoming a more conscious consumer in so many ways. However, I'm finding that for me, success does not come from giving up favorite meals but instead is found in simple substitutions. On my mission to start a healthy relationship with the way I look at food, I've discovered products from Walmart that help me make simple substitutions in my favorite dishes, transforming them from less-than-good-for-me options into meals that I can feel fabulous about consuming. By making simple changes like switching out white flour for wheat flour and eliminating some of the sugars in my diet I'm already feeling better about the choices that I'm making and the best part is, I'm still being able to whip up delicious dishes like these Almond Butter Pancakes with Fresh Strawberry Purée.
These easy to make Almond Butter pancakes are perfect for lazy weekends and can be made ahead for busy weekday mornings and they are a better-for-me options due to some simple substitutions to my classic pancake recipe. I'll show you exactly how I make them in a minute but first, let's stock up on the most important substitution for this dish, why don't we? In case you haven't discovered Almond Butter yet, it's a fabulous addition to your diet and MaraNatha is one of American's largest producers of high quality and organic nut butters. The perfect choice for nut-lovers who enjoy a healthy lifestyle, MaraNatha Almond Butter is a creamy, no-stir snack that's great paired with fruit and it's also amazing to use as a substitution in recipes! Hover over the image below to click through and purchase your MaraNatha Almond Butter from Walmart and don't forget to earn cash back with Ibotta. Then let's get going cooking on these Almond Butter Pancakes with Fresh Strawberry Purée!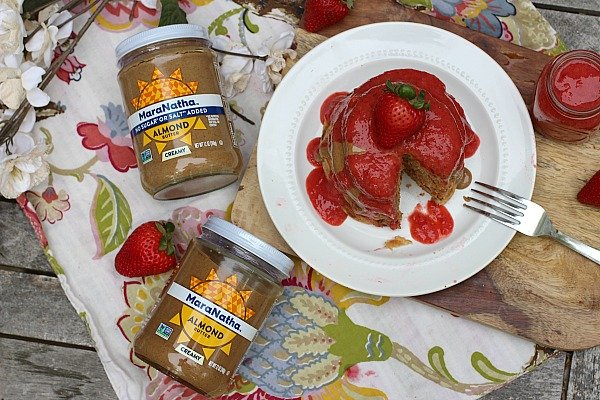 Now that you've got the most important ingredient for this delicious breakfast dish, let's talk a little more about why I created it. In my home, pancakes are a comfort food. However, my regular pancake recipe is packed with sugar, loaded with white flour and topped with sticky syrup. While that's OK occasionally, it doesn't really fit in with my goal of starting a healthy relationship with food. So, I decided to rethink pancakes and create a breakfast that I could feel good about. By pairing my favorite breakfast meal with the superior taste of MaraNatha Almond Butter and topping it to freshly puréed strawberries instead of syrup, I was able to come up with an amazing meal that I can feel great about eating!
So, are you ready to learn how to make these protein packed Almond Butter Pancakes with Fresh Strawberry Purée? I'm sure you are because trust me when I say it's a mouthwatering way to start your day and one that you can feel great about! Here's how to make them.
Almond Butter Pancakes with Fresh Strawbery Purée
Prep time:
Cook time:
Total time:
These protein packed Almond Butter Pancakes use whole wheat flour and are topped with fresh strawberry puree for a breakfast you can feel great about eating.
Ingredients
½ Cup of MaraNatha Creamy No Stir Almond Butter
2 Cups of Whole Wheat Flour
4 Teaspoons of Baking Powder
2 and ½ Cups of Unsweetened Almond Milk
2 Eggs
2 Tablespoons of Vanilla Extract
2 Tablespoons of Olive Oil
2 Cups of Fresh Strawberries
Instructions
Mix together whole wheat flour, baking powder in a bowl. Set aside.
Add Almond Milk, eggs, vanilla extract and melted almond butter to a mixer and whisk well.
Mix dry ingredients into wet ingredients and blend just until combined.
Scoop heaping spoonfuls of pancake batter onto a preheated skillet or pan.
Cook for about three minutes on each side.
Add fresh strawberries to blender and puree until liquid.
Top pancakes with almond butter and strawberry puree.
Enjoy!
How to Make It
These Almond Butter Pancakes with Fresh Strawberry Purée are a delicious breakfast dish and by making a few simple substitutions, they are a perfect option for a hearty breakfast that fits in with my wellness goals. To start my Almond Butter Pancakes, I mixed together my whole wheat flour and baking powder in a bowl. Next, I added my almond milk, eggs, vanilla extract and olive oil to my mixer. After blending these ingredients together, I pulled out my MaraNatha Creamy No Stir Almond Butter and measured it out into a measuring cup.
Made with only the finest heart-healthy California almonds that are roasted to perfection and double ground to velvety smoothness, this almond butter is creamy and delicious and doesn't require stirring to get the perfect spoonful from the MaraNatha jar!
After measuring out my MaraNatha Almond Butter from Walmart, I poured it into my milk mixture while continuing to blend it, ensuring that my almond butter was perfectly incorporated into the liquid components of my ingredients.
Once my wet ingredients were well combined, I added my dry ingredient back in and mixed them all together just long enough to incorporate them (Note: Do not over-mix. Your batter should be slightly lumpy). As soon as my batter was mixed, I scooped it out in heaping spoonfuls onto my skillet that was preheated to medium heat.
These Almond Butter Pancakes don't take long at all to cook which is perfect because they smell so amazing that you'll be drooling while you're cooking them. After about two minutes, I flipped my pancakes (look for bubbles in the top of our batter to know when to flip) and cooked the other side. As soon as my pancakes were a golden brown on both sides, I removed them from the griddle and added a stack to my serving plate to prepare my family's breakfast.
Now that I had the perfect pancakes that don't have tons of added sugar and instead boast the protein packed, delicious taste of almond butter in every bite, I decided to continue on with my substitutions and forgo the butter and syrup for some fresher toppings. I quickly cut the tops off of my strawberries and added them to my blender, turning them into a delicious fresh strawberry purée. As soon as my purée was complete, I drizzled a little more MaraNatha Almond Butter and my Fresh Strawberry Purée over the top of my Almond Butter Pancakes.
After topping my delicious dish with a fresh strawberry purée, my stack of Almond butter Pancakes that will feed the whole family was ready to serve up! I paired it with a side of my fresh strawberry purée in case anybody wanted to add more fruit and my dish was ready to be enjoyed.
Let me tell you, these Almond Butter Pancakes with Fresh Strawberry Purée are delicious and satisfying and a perfect, better-for-you way to start the day.
Their light, fluffy taste is amazing and the combination of the nutty almond butter flavor and the freshness of the strawberry purée is a perfect combination that is worth getting out of bed for!
While my Almond Butter Pancakes with Fresh Strawberry Purée are a perfect way to start every day, the delicious ways to use MaraNatha Almond Butter doesn't stop with this recipe. With a variety of options like MaraNatha Creamy No Stir Almond Butter that has a spreadable texture you can enjoy right from the jar and MaraNatha No Salt or Sugar Added Almond Butter that boasts no salt, no additives and just the naturally perfect taste of the finest almonds available, the options for incorporating MaraNatha Almond Butter from Walmart into your daily routine are endless! Try it in our Almond Butter Pancakes for breakfast. Pair it with an apple for a delicious snack. Add it to a smoothie to get past your afternoon hunger. Just be sure to refrigerate it after opening so that it always taste amazing!
Ready to get your MaraNatha Almond Butter today? Be sure to earn cash back with Ibotta when you use this offer for MaraNatha Almond Butter from Walmart. Pick it up the peanut butter aisle and be sure to stock up for all your meal and snacking needs!
Now tell me, what meal or snack will you create with delicious, creamy MaraNatha Almond Butter?